Inspecting My Backyard
May 5th, 2009 | Posted in Miscellaneous by Anne Brewer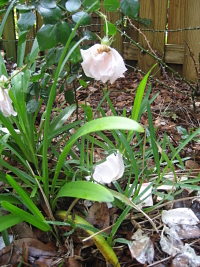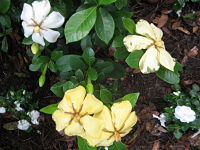 I'm always a little hesitant or woeful about traveling this time of year because of what I might miss blooming in my garden. Although I had a wonderful excursion to San Antonio for my best friend's wedding celebration, I knew I would miss the peak blooming days of the New Dawn climbing rose and the Daisy Gardenias in my backyard.
I returned yesterday afternoon and what was left of the roses was beaten off  by a much needed torrential rain storm. I'm sad I missed them blooming, but the rain made everything else come alive with color and energy. It won't be long before my agapanthus, daylilies, and hydrangeas bloom- so there's always something to look forward to in the garden.
As I'm writing this, my friend Paula is photograghing my garden. She has a wonderful eye and I can't wait to see what she has done! I've referenced her blog in my favorites so please check it out and see how gifted she is with the camera. I'll post some of her work later.

Email This Post
|

Print This Post
One Response to "Inspecting My Backyard"